sorry Tina i've been procrasinating about sending these to you, but i might as well take photos of them and so you can get an idea of what you will do with them LOL.


The gold heart shape one is from a chinese brand name called Tailaimei
and the other pallete is from Aily
They both have pretty colors for blush and e.s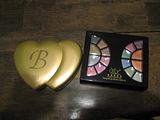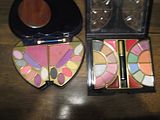 (this photo is better quality)

Anyways they all open up to all this, pretty cool how they can be very compact. I havent got a chance to try the quality of the e.s or blush, but somehow they remind me of the 120 pallette...



I'll probably try the colors out with my own pallette(the photos show's Tina's gift, but i have another one also)

Hopefully tina can do a review of em.

Note to Tina, im throwing away the Mascara, because it stinks! so dont be surprise when it arrives and that is missing LOL!